If you love Christmas and the holiday season, then this collection of funny Christmas tattoos is for you. From silly to bizarre, these funny tattoo designs incorporate various characters and symbols that represent the Christmas season.
A Merry Christmas May You Have
The lovable character from the popular Star Wars movies, Yoda, is shown in this tattoo; either as a replacement for Santa Claus or as one of Santa's little helpers.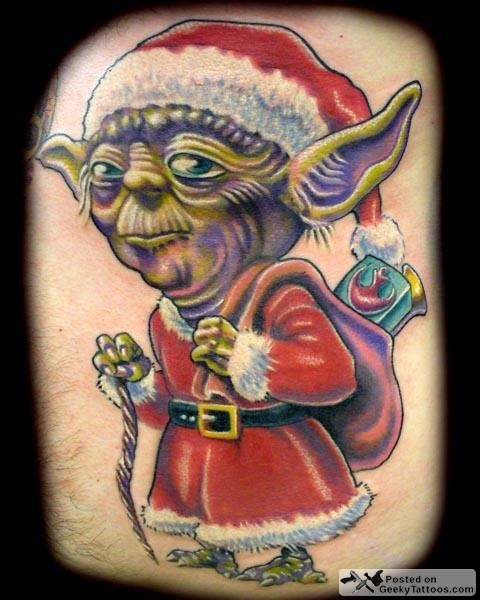 source:geekytattoos
Kiss Me under the Mistletoe
This funny Christmas tattoo falls under the label of adult humor, as the mistletoe design is tattooed just above this guy's belt line. In western culture, it is traditional to hang mistletoe in a doorway. If someone stands beneath the mistletoe, it is an invitation for a kiss…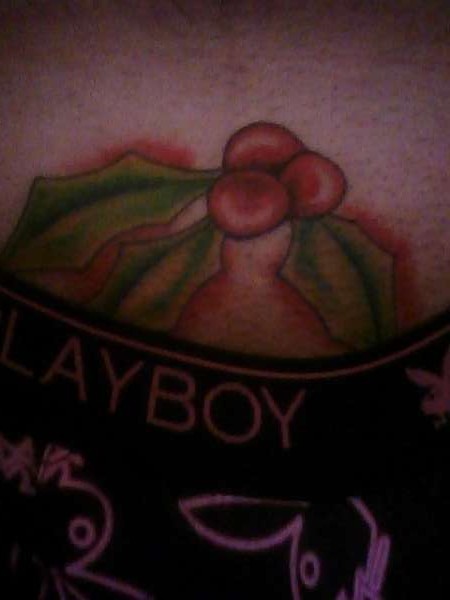 source:ratemyink
A Nightmare Before Christmas Tattoo
Jack Skellington, the main character from Tim Burton's A Nightmare Before Christmas, is a humorous contrast to the traditional Christmas character, Santa Claus, with his jolly jowls and bulging belly. The Jack Skellington Christmas tattoo below shows how this character's evil looks stand in contrast to the innocent-looking characters that are usually associated with Christmas hats.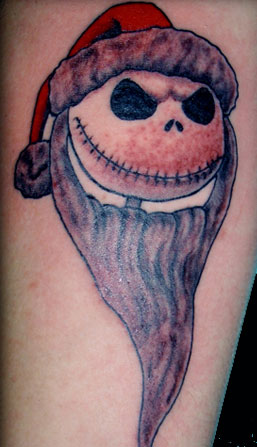 source:offbeatink
Jesus, a Bunny and a Jolly Fat Man
Christmas is the celebration of the birth of Jesus Christ. In Christianity, Easter is a celebration of Jesus ascending to heaven, a 'rebirth' of sorts. The most recognizable Christmas character is Santa Claus, a jolly fat man in a red suit. Easter is often represented by a rabbit, called the Easter Bunny. In this funny tattoo, Jesus is shown with Santa Claus and the Easter Bunny.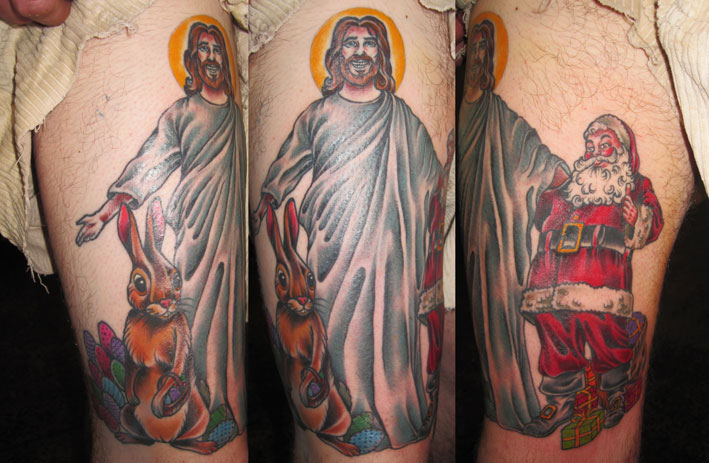 source:lonsdaletattoo
A Calvin and Hobbes Christmas Tattoo
Bill Watterson's famous comic strip, Calvin and Hobbes, has inspired a wealth of fan art tattoos. Most Calvin and Hobbes tattoos depict the main characters; the boy Calvin and his stuffed tiger, Hobbes, but other characters from the comic have also stolen the hearts of the public, such as the philosophical snowman, shown below.
source:fanpop
Zombie Jesus Christmas Tattoo
This tattoo takes a little deciphering to fully understand its meaning. As far as this author can tell, this is a depiction of Jesus as a zombie (he did, in a way, rise from the dead at Easter). The zombie doll character has its arms outspread in a similar pose to that of Jesus on the cross, and through the palms of its hands are nails, in a parody of the crucifixion of Christ. The lightbulb is, uh, well, it probably seemed like a good idea at the time.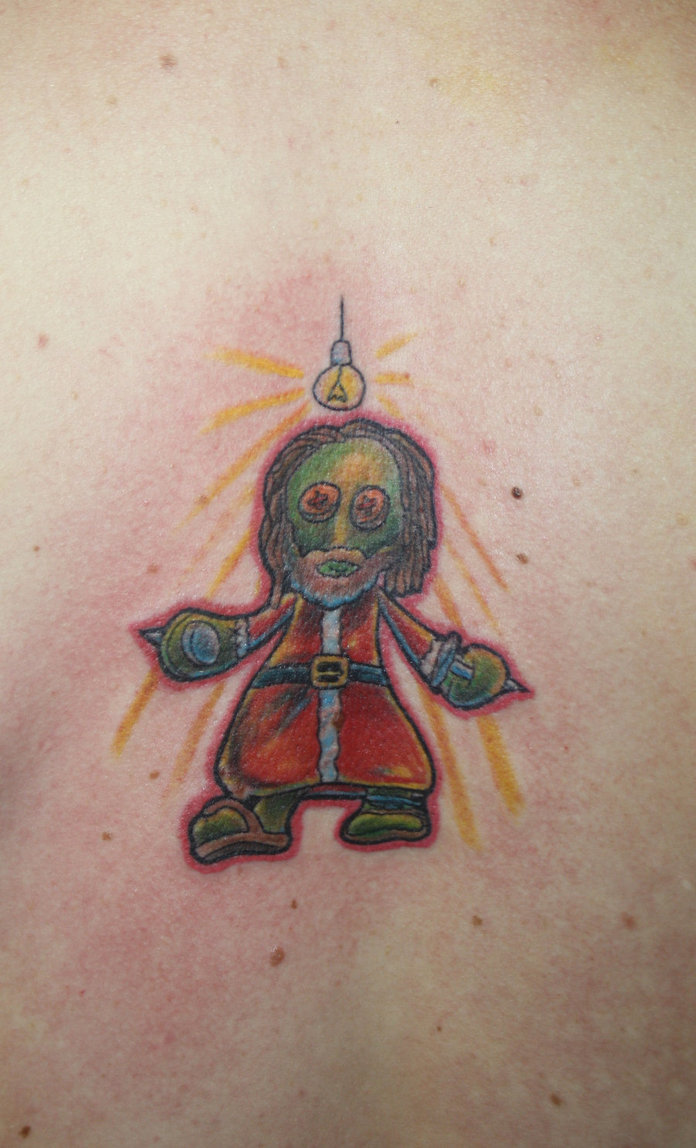 source:simplytattoo
Funny Will Ferrell's Inky Elf
This tattoo shows funny man Will Ferrell as the character that he played in the Christmas themed movie, elf.
source:tattoofashion
Rudolph's Predecessor, Immortal in Ink
This Christmas tattoo is a portrait of Randy the Reindeer, Rudolph the Red Nosed Reindeer's predecessor. For years, Randy led Santa's sleigh on Christmas eve, delivering Christmas presents to good little children, sometimes, even, to deliver Christmas gifts to naughty children. Then one snowy night, Rudolph that dastardly Red Nosed Reindeer usurped Randy's position as lead reindeer, dooming Randy to eternal obscurity. RIP Randy.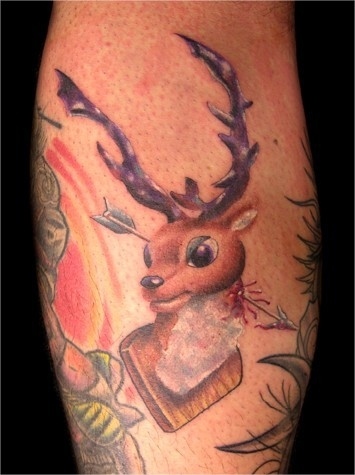 source:themusicink
We Wish You a Manga Christmas
This Christmas tattoo design uses the popular Japanese comic book style, manga, to portray Western symbols of Christmas. In this manga tattoo design, the Christmas fairy is shown wearing a Christmas outfit, holding the Star of Bethlehem and accompanied by other Christmas symbols, mistletoe and a candy cane.
source:tattootestdb
The Grinch Stole a Christmas Tattoo
The famous children's book, How the Grinch Stole Christmas by Dr. Seuss, features a Who whose heart is three times too small. The Grinch is angry at the other Whos, who, every year, enjoy the Christmas cheer. The Grinch decides to stop Christmas from coming by stealing the Whos' Christmas presents, who-ham and Christmas decorations.
source:about