The Sistine Chapel, in the Vatican City, Italy, is famed for its painted walls and ceilings. Most notable among the artists who worked on the chapel is Michelangelo, with his famous frescoe The Creation of Adam. This painting has inspired fan art that replaces the figures of God and Adam with cartoon, film and gaming characters.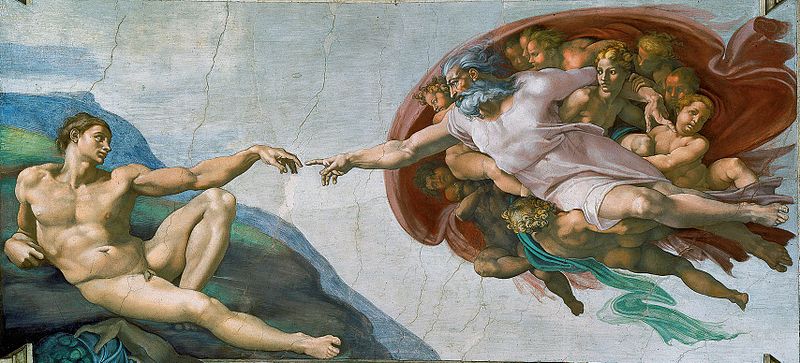 source:wikipedia
Beavis is God
MTV's popular animated TV series, Beavis and Butthead, produced two teenage American characters that have entertained and repulsed the world for over a decade. It's likely that in this setting, Beavis would be saying to Butthead, "Pull my finger!"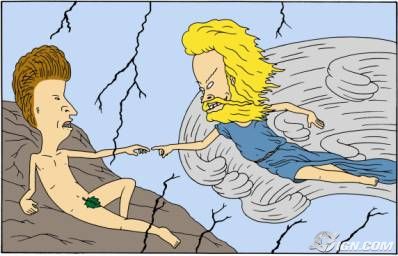 source:wrkhrp
Eat My Shorts
Bart Simpson's shorts appear to have already been eaten. All of the other figures in this humorous Sistine Chapel knock off have been styled to resemble characters from the popular TV show The Simpsons.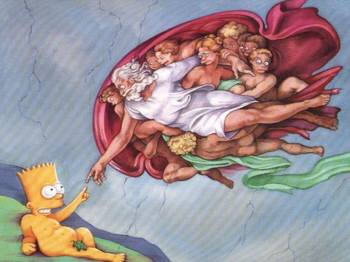 source:blawgletter
The Creation of Al Dente
"The Flying Spaghetti Monster is the deity of the parody religion the Church of the Flying Spaghetti Monster or Pastafarianism" – Wikipedia. The Spaghetti Monster was created by Bobby Henderson in 2005, in protest of the American government's decision to teach intelligent design as an alternative to evolution.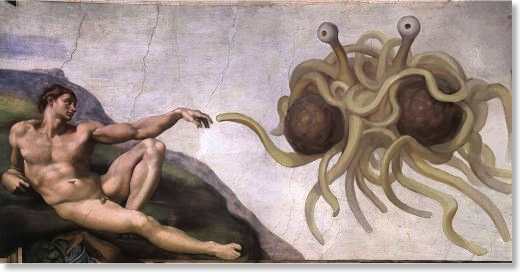 source:nous
Miyamoto's Creation of Mario
Shigeru Miyamoto, the creator of video games franchises like The Mario Brothers and The Legend of Zelda, is shown here in place of the original Christian God. Miyamoto is surrounded by other Nintendo video game characters, and reaches towards Mario on the left of the image, in a parody of God creating Adam in The Creation of Adam.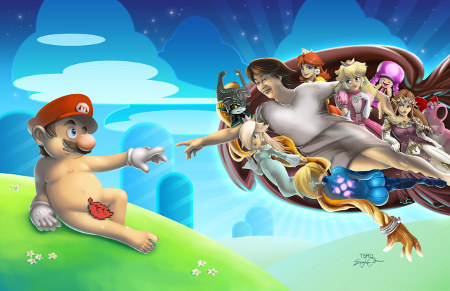 source:geekologie
The Creation of Kermit the Frog
Jim Henson is shown below with the most famous Muppet, Kermit the Frog. Henson, the creator of the Muppets, has been placed so that like Miyamoto, above, he is portrayed as God, giving Kermit the touch of life.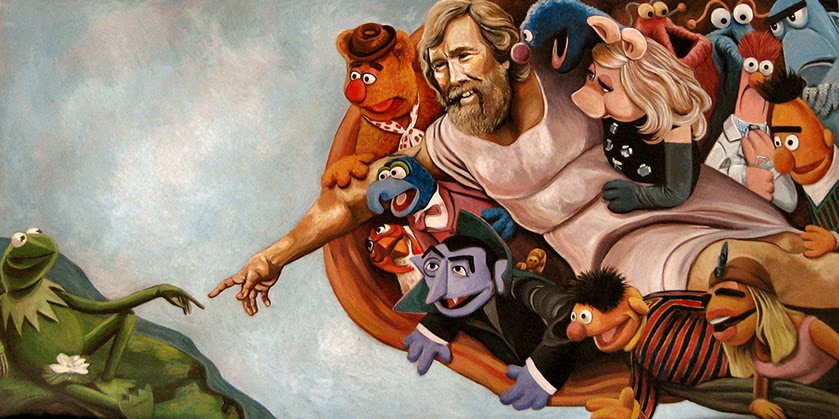 source:poppedculture
Luke, I am your Father
Luke Skywalker, from the cult movies Star Wars, is shown with his father, Darth Vader. True to form, Vader is trying to kill Luke.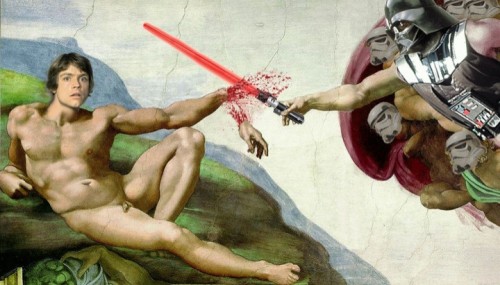 source:nerdnirvana
Ceiling Cat Creates You
One of the most lovable LOLcats titles is that of Ceiling Cat, bestowed upon dozens, possibly hundreds of shy cats that have taken to living in peoples' ceilings. This parody of Michelangelo's The Creation of Adam is also a pun on the LOLcats title Ceiling Cat.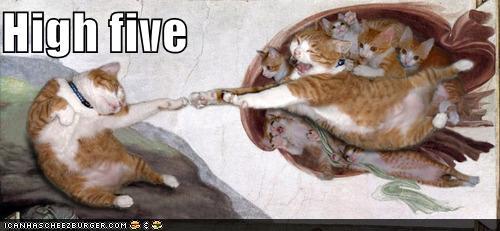 source:shewhoseeks
Charles Darwin's Monkey Business
Charles Darwin, an English Biologist, proposed the idea of evolution; that all creatures on Earth have transformed over time through a process of natural selection. Darwin's theory seemed ridiculous to many religious folk, especially since Darwin suggested that man evolved from apes.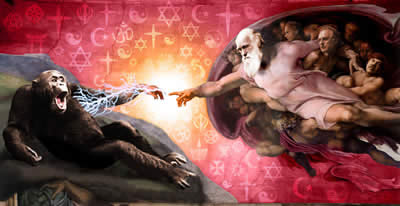 source:darwin-legend